Graduate profile
How does it feel to be graduating?
Graduating doesn't feel as scary as I imagined it would! I associated graduating with being released into the big scary world of work, but now I'm thinking of it more like a celebration of all the hard work I've put in over the past 4 years.
Read more below.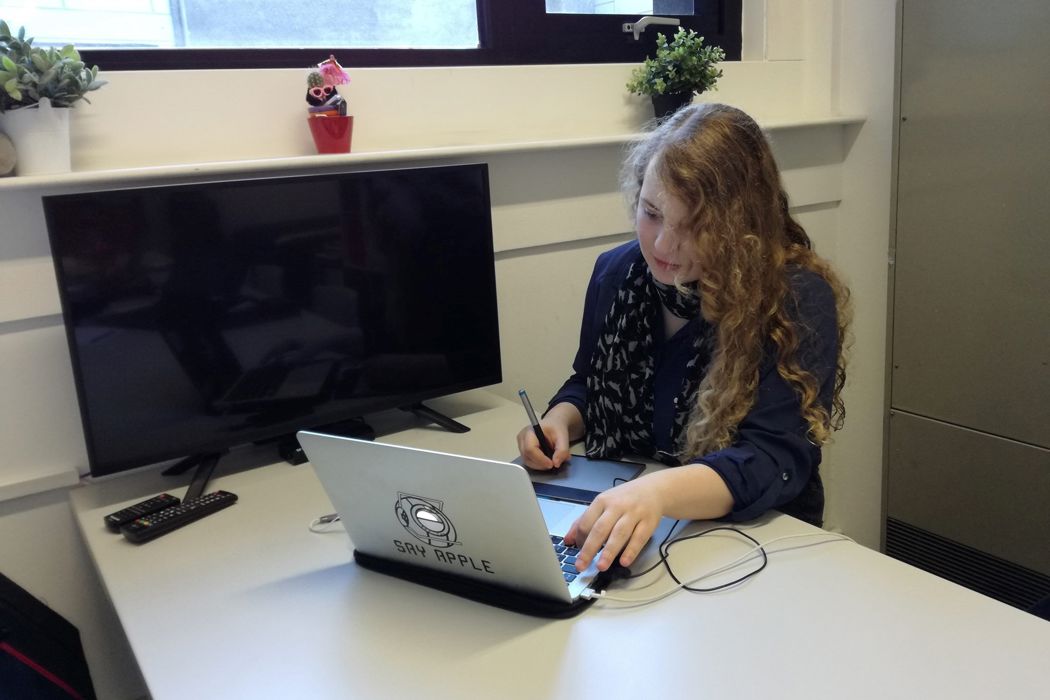 Why did you decide to study Computer Arts?
Originally, about 6 months before I had to make a choice for UCAS, I was geared up for studying Drama & Theatre at Glasgow, as I'd been working towards for 5-6 years. It was a mere coincidence that I ended up at Glasgow Caledonia where a lecturer asked me: "How would you like to to draw pictures on a computer for a living?"

It just made sense with everything I'd done during my childhood; making my own games and graphics on my old '95 computer; creating my own comics and magazines; making documents and embellishing them with all sorts of designs; even my own trading card game! There isn't a day that goes by where I don't feel grateful that I just so happened to be asked that question that put everything into place for me..
What are the highlights of your time at Abertay?
I've always loved all the opportunities that Abertay presents for Games students. My highlights include being a part of Dare to be Digital back in 2016, (and getting to go to London for the Games BAFTAs) and being sent to EGX in 2018 as part of Dare Academy. As well as this, I loved working for RZSS for my Professional Project module. My other highlights would be the Physical Digital Experiences and Computer Arts Practice modules, run by excellent lecturers David Lyons and Ryan Locke. These modules were inspiring and challenging, and allowed me to build my own brief and develop myself and my skill, as well as being genuinely interesting and fun. I'm so glad for lecturers at Abertay that allow and encourage creative freedom and have confidence in you as an artist. Gaining self-confidence in my own work has been one of the most difficult parts of being a creative and I'm very thankful to my lecturers for having that confidence in me.
Tell us about your Flutterby project, and what led to the idea?
Flutterby was my Honours Project, and for it I ran a successful Kickstarter campaign and raised money for Butterfly Conservation. It started from the Physical Digital Experiences module where I made a few printed origami butterflies. In my documentation I spoke about expanding the idea and working with Butterfly Conservation. It just so happened someone I worked with was the Butterfly Conservation representative for Dundee, which seemed like a sign to go for it. I managed to get in touch with the charity and had many discussions with my mentor, David Lyons, about taking the idea further and focusing on accessible User Interface in print. Everything went smoothly and I was really pleased that all my hard work on the project paid off! Again I'm very thankful to my mentor and the other lecturers at Abertay for being available to talk through my idea with me and support me. 
You're working at Puny Astronaut, what's that been like?
Working for Puny Astronaut has been fabulous. I can honestly say that if I had written down everything I wanted from a dream job it'd tick all the boxes. The team is the perfect size, the IP is original and really fun to work on, the job is challenging, I'm constantly getting to develop myself and to stretch my design muscles. I didn't expect to find such a perfect fit straight out of Abertay, so I really appreciate this opportunity.
What's your long term ambition?
I've always wanted to speak at GDC (preferably their UX Summit). This year I'm speaking at Develop: Brighton about my Kickstarter campaign, so I'm looking forward to this first step on my path to GDC.

From my theatre days I'm not shy of a spotlight so it's a pipe dream of mine to become a well-known figure in Video Games. Dream goals are to be a keynote for Global Game Jam, and I'd love to be one of MCV's 30 under 30!

I've always wanted to live in Canada, so I hope in the future (when I'm a bit more grown up) I can make my way over there.

Also, I'm a huge theme park nerd, so I hope to keep travelling and to tick off all 65 theme parks on my Bucket-list.