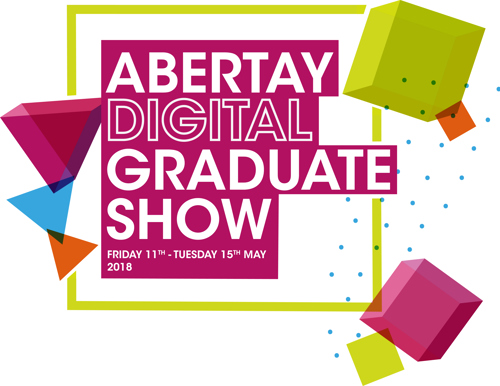 11th - 15th May 2018
Abertay Student Centre, 1-3 Bell Street, Dundee

Friday 6pm - 9pm
Weekend 12pm – 4pm
Monday & Tuesday – 12pm-4pm
Please help us capture the moment, use our hashtag: #ADGS2018
Abertay Digital Graduate Show is an inspiring and fun-filled 5 days which celebrates the talents and achievements of our Abertay honours students from the School of Design and Informatics.
We are so excited to share the skills and creativity of our fine soon-to-be graduates with a highly interactive show exhibiting the work of over 100 students featuring games, VR experiences, sound, animation, 3D modelling, character and concept design, illustration, and robotics, as well as a series of guided tours and talks for the public, and bespoke experiences for schools and colleges.
For the third year in a row, the courses offered by our National Centre of Excellence for Computer Games Education within the School of Design and Informatics have been voted the best in Europe, which promises to make the Abertay Digital Gradaute Show an inspiring experience for families, games-enthusiasts, culture-vultures and those just curious to learn more about creative technologies.
So come along to see, play and interact!